Welcome to the Cedar Falls Campground
CEDAR FALLS CAMPGROUND SITES ARE NOW RESERVABLE
Cedar Falls Campground will begin accepting reservations for the 2022 camping season on February 1, 2022. Reservations must be made at least 1 day prior to arrival. Reservations are strongly advised, and walk-in or day of rental availability cannot be assured. Please click the "Reserve Now!" link below to reserve your site now. The reserve now tab below will be functional starting February 1, 2022.
2022 Campground Opening: April 28
The rush of the falls. The solitude and pristine beauty of the Willow Flowage. The whispering boughs of mighty pines on thousands of acres of undeveloped forest land. All this is yours at the Cedar Falls Campground.
Located in one of Wisconsin's last wilderness settings, Cedar Fall Campground offers hiking in the forest surrounding the campground. Fabulous fishing on the Tomahawk River and the 7,000 acre Willow Flowage. And bring your camera and binoculars because wildlife is abundant.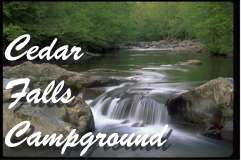 Cedar Falls Campground features:
R.V. Campsites

Seasonal Campsites

Boat Landing

Showers and Restrooms

Laundry Room

Fish Cleaning Facility

Sanitary Dump Station

Garbage and Recycling
Important Information for 2021:
Camping Fees:

Non-electric waterfront sites (9, 10, 11, 12, 13, 14, 15, 16, 17, 18, 19, 20): $30/night, $840/month (30 nights)

Electric non-waterfront sites (21, 22, 30, 32, 34, 35): $35/night, $980/month (30 nights)

Premium electric waterfront sites (2, 3, 5, 6, 7): $40/night, $1,120 month (30 nights)

Other Fees:

Boat landing for non-campers: $5/boat, $50 annual permit

Island camper parking: $5/night

Non-camper sanitary dump: $10/dump

East overflow lot trailer parking: $5/day

Willow Flowage remote camper shower: $5/person
For day of site rental inquiries and questions for the campground supervisor please call 715-356-5396 BETWEEN 8:00AM and 8:00PM only during the operating season.
For questions on the reservation system or other information year-round:
email: cedarfalls@wvic.com
Phone: 715-848-2976 ext. 303
Cancellation allowed up to midnight 2 days before your scheduled arrival. Fee for cancellation is $10 plus any reservation fees.

No refunds for cancellations within 2 days of arrival.

No refund for early departures.

You may cancel by emailing cedarfalls@wvic.com or by calling 715-848-2976 extension 303.

E-mail cancellation requests are preferred and are more likely to be taken care of promptly.